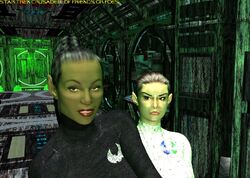 The Romulans are a Humanoid race from the planet Romulus in the Beta Quadrant. The Romulans are biological cousins of Vulcans, as they are descended from those who rejected Surak's reforms during the Time of Awakening. The Romulan Star Empire is the Romulan state and one of the major powers in known space.
Ad blocker interference detected!
Wikia is a free-to-use site that makes money from advertising. We have a modified experience for viewers using ad blockers

Wikia is not accessible if you've made further modifications. Remove the custom ad blocker rule(s) and the page will load as expected.