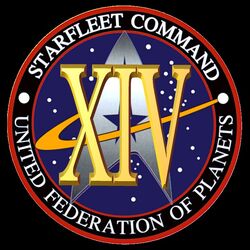 The 14th Fleet operates in the Beta Quadrant, and Delta Quadrant of the Milky Way Galaxy. The fleet is under Command of Admiral Vanessa Ann Lucifel.
The Delta Quadrant
Edit
In 2379 the Federation Council granted a Starfleet presence in the Delta Quadrant with the formation of the 14th fleet to officially begin operation in 2382 in the Cestus system, they opted to located several ships, and a division of Marines in the Delta Quadrant. By 2380 it was rstablished that the 14th Fleet would operate from Deep space 10.
The Cestus System
Edit
In 2386, the signing of the Romulan-Gorn trade agreement, the Federation allocated the 14th fleet to the Cestus sector. They named Admiral Vanessa Ann Lucifel as Fleet Commander. Starbase 140, in orbit above Cestus III] serves as the staging area of the fleet, as well as the Cestus shipyards which were moved to Cestus III after the effects of a powerful shockwave lay waste to the yard at Cestus IV.
Ships of the 14th
Edit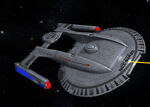 USS Akagi
USS Béarn
USS Kaga
USS Lancer
USS Ranger
USS Saratoga
USS Talon
USS Gargarian
USS Leonov
USS Lexington
USS Liberty
USS Monticello
USS Ranger
USS Saratoga
USS Tikopai
USS Waterloo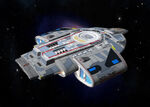 USS Courageous
USS Iroquois
USS Milan
USS Nanjing
USS Athens
USS Edmonton
USS Fuller - Destroyed
USS Japan - Destroyed
USS Manilla
USS Bainbridge
USS Caprice
USS Cosmos
USS Javelin
USS Mariner
USS Pioneer
USS Vega
USS Venera
USS Bolivia
USS Canada
USS Denmark
USS France
USS Germany
USS Malta
USS Nepal - Destroyed
USS Portugal
USS Sweden
USS Turkey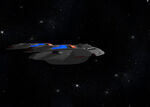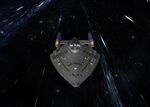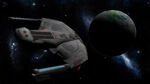 USS Acadia
USS Ford
USS Shiyan
USS Stark
USS Lexington
USS Tikopai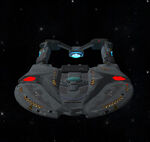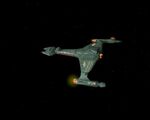 Ad blocker interference detected!
Wikia is a free-to-use site that makes money from advertising. We have a modified experience for viewers using ad blockers

Wikia is not accessible if you've made further modifications. Remove the custom ad blocker rule(s) and the page will load as expected.